Thousand-year-old Gdańsk is one of the biggest and most beautiful cities in Poland. It lies on the Baltic Sea coast. Together with the city of Gdynia and a spa town of Sopot, Gdańsk forms a metropolitan area called the Tricity.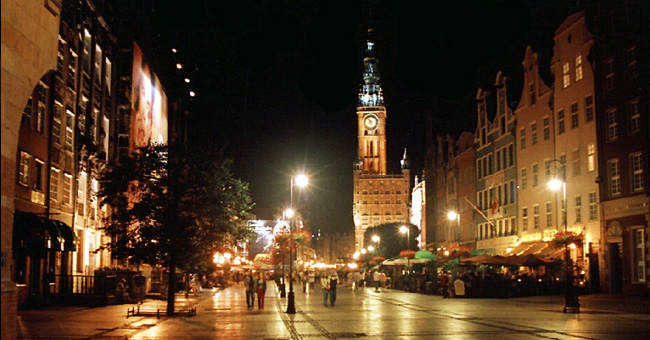 For ages Gdańsk has been playing a key role in the exchange of goods between the countries of Western and Central Europe. As a member of the Hanseatic League, the city was a melting pot of cultures and ethnical groups. It was the 1939 flash point of World War II, and then, in 1980, the birthplace of the Solidarity labor movement, ushering the end of Communist domination in Eastern Europe.
Among many historical monuments, special attention ought to be paid to the gigantic Gothic St. Mary's Church (Poland's biggest) erected in 1343 - 1502, the Town Hall, the late - gothic Artus Court which used to be the seat of the merchants' guild, and one of the city's symbols – The Crane in the form of a Gothic twin tower gate.
The town possesses a number of interesting monuments from other periods too. They include a gothic cathedral in Oliwa (a former Cisterian Abbey) with an amazing Rococo organ.
Additionally, amber shops "with soul", charming restaurants and cafés, which are to be found nowhere else, create a special atmosphere.
In the Tricity there are several theatres, opera scenes, concert halls, cinemas, clubs and bars. The cultural offer is broadened by mutlifarious museums, concerts, markets, street shows, performances and exhibitions.
The Tricity is also a popular tourist destination because of its numerous sandy beaches, piers, sailing tours and coastal attractions.
It's impossible to miss the famed Wooden Pier at the end of the Monte Casino Heroes Street in Sopot. With its more than 500m, it is the longest pier in Europe and juts out from the Sopot beach.
There are plenty of opportunities to explore the nightlife that can be found throughout the Tricity, which is full of pubs, nightclubs and discos filled with people who love having fun.
Last modified: 31.01.2019